We Belong Together: Mariah Carey and Kim K Team Up, Plus Other TikTok Trends
Ah yes, TikTok – the talk-of-the-town in today's social media world. Those of us who have it (over a billion on the planet!) often find ourselves scrolling through the seemingly endless abyss of videos for way longer than we're proud to admit…
One of the many novelties of TikTok is that there's always something new going on – whether it's a trending sound or viral video, new feature or even a controversy (and trust us, there's been many)!
For those struggling to keep up with all the constant changes, we've got your back! Take yourself out of your pit of despair and take a squiz at what's trending this week! In no time at all, you'll be as in touch with what's new as a Gen Z-er!
A Match Made in TikTok Heaven? Kim K and Mariah Carey Join Forces 
This week, fans around the world rejoiced when they saw an epic TikTok of none other than Kim Kardashian and Mariah Carey dancing to her now-trending song, 'It's a Wrap'.
But that's not the only noteworthy thing about the video – it even featured the celebrity mums' famous kids – North West and Monroe Cannon playfully miming the lyrics. And if you thought that was enough excitement in the realm of TikTok collaborations – you thought wrong. North and Monroe also posted a parody video referencing Rihanna's iconic SuperBowl performance, which you can read all about in our blog.
It's crazy how with the impact of social media, songs like 'It's a Wrap' can trend over a decade later! Mariah Carey herself has used this fact to her advantage – posting multiple videos on her own TikTok account featuring the song, and encouraging others to do so. 
At the end of the day, Mariah's going to be the one raking in the cash from increased streams and sales, so we don't blame her for wanting to give the track some more exposure!
The power of viral TikTok songs in boosting sales is nothing short of incredible. Artists like Megan Thee Stallion and Pink Pantheress have TikTok to thank for a lot of their success. For example, Pink Pantheress used to post a song every day on the platform until she got recognised – and it definitely worked out! Her new 'Boy's A Liar' remix features in almost 300k TikToks to date and charted at #4 on the Billboard Hottest 100 Chart – her first top 10 hit. 
Down the Rabbit Hole – TikTok Feeds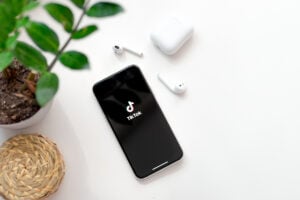 The platform recently launched 'Feeds' on the app's homepage for select markets – and no, we're not talking about the 'For You Page' (FYP) Feeds. These feeds are places beside the 'For You' and 'Following' tabs and are divided into separate categories such as:
Gaming

Food

Sports 

Fashion
And maybe more in the future!
For those of you thinking 'if it ain't broke don't fix it?', we get where you're coming from. But TikTok did this for a pretty logical reason. It helps to organise  the content better and saves users from taking the time to search up those topics themselves and find relevant videos. 
What's in it For TikTok?
You might be wondering, how is TikTok benefitting from this? Isn't there (almost) always an ulterior motive?
Well, let's think about it. 
Let's say you're a huge foodie and most of the videos you save to your collection or share with friends are food related. With a dedicated 'Food Feed' on your homepage, you could find yourself spending even more time on the app because videos that are targeted to your interests are being served one after the other to you on a silver platter!
The idea isn't new – TikTok probably got some inspiration from competitors like YouTube that already features topic categories on the homepage. And besides, these days, social media platforms are borrowing ideas from each other, left right and centre. 
Who could forget when Instagram launched Reels as a response to TikTok? Or more recently, when TikTok introduced 'TikTok Now' to try and compete with BeReal. Can we not have any original ideas these days? Sigh. 
That's not to say there won't be any criticism towards the change though, which explains why the update has only been launched in the U.S. so far (but we can expect it to reach us here in Australia soon enough). There's nothing wrong with being prepared anyways!
De-Influencing is the New Black
We'd be lying to ourselves if we said we didn't live in a world of overconsumption – especially  with social media around. For example, we might see an influencer posting about a paid collaboration video featuring a 'game-changing' foundation that they swear by in their daily beauty routine. And heck, they even make things more irresistible by attaching a Linktree or Storefront to their account with the direct link to make a purchase…adding to their income in the process.
To compare, de-influencing is all about encouraging viewers to think a bit more carefully about what influencers post on social media, before blindly purchasing a product they recommend. De-influencing TikToks basically involve users or 'de-influencers' discussing which popular products are overrated and not worth buying. 
These videos not only add to the scepticism towards the authenticity of influencers, but they also push users to be more conscious consumers. The de-influencing trend has been particularly effective for users who are trying to follow more sustainable shopping practices in their daily lives. 
The trend is also a prime example of how User Generated Content (UGC) is so well received, as they are seen as more authentic and targeted to the needs of the audience. 
How and Why Marketers Need To Stay In Touch With Trends
If any of these TikTok trends and updates we've mentioned are new to you, that means you definitely need to step up your game.
The marketing industry and consumer market is always changing, and if you don't keep up, you'll simply fall behind your competitors at the drop of a hat. 
So how do you avoid lagging behind on TikTok?
Check the TikTok discovery page…like, a lot
The discovery page is prime real estate for you to find what's hot and trending in your area at the time. It's always updating, so the more you check, the more chances you have of discovering the most popular videos, hashtags, sounds and effects. 
Not to mention, your discovery page is chock-a-block full of ideas and inspiration you can use in your own videos to grow your engagement and following. 
CapCut is an app made by the creators of TikTok, for TikTok. You can edit your original videos or use templates from trending videos and add them to your own! 
It's one thing to keep up-to-date with trends, but it's another to actually incorporate those trends into your own content! Who knows, your rendition could go viral and put your brand or marketing company on the map!
Follow popular influencers
If you want to see what's popular on TikTok, then it's a no brainer to follow the users who are popular on TikTok. They clearly know what they're doing if they've managed to attract such a large follower base!
Filter TikTok search results 
When you make a TikTok search, you can filter search results by popularity and even by the time it was made. Filtering for the most popular and most recent videos is an easy way to find what's trending on the platform right now. 
If you already know what's trending but want to see it in action, you can even search up the specific trend and then use the filters above to view the best videos. The opportunities are virtually limitless!
Who doesn't love a cheeky self plug? 
Our team is always reading up on the latest trends on TikTok and beyond, so if you want to save yourself from all the research, you can always check in with our free learning centre. Because if it's important, we've probably written about it already!
Want to Know More About the Art of Virality? 
At First Page, we're no strangers to trends.
From search engine optimisation (SEO), to email marketing and social media, we're always upping our skills and strategies to find the latest and greatest ways to promote our own brands and our clients'.
So, don't you think it's time your company gets the recognition and attention it deserves online?
We're not going to leave you high and dry either – we'll be with you every step of the way to help you get the success you've always wanted. At the end of the day, your success is our success, so we will do everything in our power to help you achieve your goals.
For example, our Social Media strategists can help you make amazing UGC-style ads that truly connect with your target audience and make your products shine!
Contact us today and get closer to having your 'Main Character Moment!'